Forced Marriage
A forced marriage is when someone is made to marry another person who they don't want to. Forced marriages can happen in secret and can also be planned by parents, family or religious leaders. It may involve physical abuse, sexual abuse or emotional abuse.
A forced marriage is different from an arranged marriage. In an arranged marriage, people have a choice about whether they get married or not. Arranged marriages are a cultural tradition for many people, but forced marriages are an abuse of human rights.
It is recognised in the UK as a form of violence against women and men, domestic/child abuse and a serious abuse of human rights.
The pressure put on children to marry against their will can be physical (including threats, actual physical violence and sexual violence) or emotional and psychological (for example, when someone is made to feel like they're bringing shame on their family).
In some cases children may be taken abroad without knowing that they are to be married.
When they arrive in that country, their passport(s)/travel documents may be taken to try to stop them from returning to the UK.
Home Office Forced Marriage Guidance & Resources
The Home Office co-ordinates efforts across government and offers outreach support to local areas.
The Forced Marriage Unit (FMU) is a unit set up in January 2005. It operates both inside the UK, where support is provided to any individual, and overseas, where consular assistance is provided to British nationals, including dual nationals.
The FMU operates a public helpline to provide advice and support to victims of forced marriage as well as to professionals dealing with cases.
The assistance provided ranges from simple safety advice, through to aiding a victim to prevent their unwanted spouse moving to the UK ('reluctant sponsor' cases), and, in extreme circumstances, to rescues of victims held against their will overseas.
Click on the image below to find out more information and access resources.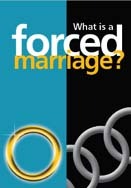 Karma Nirvana
Karma Nirvana is a UK registered Charity that supports victims and survivors of Forced Marriage and Honour Based Abuse. For more information click on the image below.