Concerned about a member of staff or volunteer?
Updated 21/12/2018
The vast majority of adults who work with children (paid or unpaid) act professionally and aim to provide a safe and supportive environment which secures the well-being of children and young people in their care. However it is recognised that adults can abuse their position of trust and harm children but also that misunderstandings can occur. It is therefore essential that all possible steps are taken to ensure that staff working with children have clear and safe boundaries and that processes are in place to safeguard children and young people.
An allegation of abuse can be made against any staff member at any time and it can be very challenging to believe that a trusted member of the team cold cause harm to a child.
It is for this purpose that the process below has been established and must be followed when there is an allegation or concern raised about any person who works with children, in connection with his/her employment or voluntary activity.
Contacting the Local Authority Designated Officer (LADO).
When an Allegation is made against a member of staff (paid/unpaid) the Designated Senior Manager for Allegations (DSM) within your agency should be informed and should immediately consult the Local Authority Designated Officer (LADO).
ALL REFERRALS SHOULD BE SENT TO THE BRENT FAMILY FRONT DOOR:
Telephone: 020 8937 4300 - Option 1
Email family.frontdoor@brent.gov.uk
Notification to LADO form
You must complete the form below and send it to Brent Family Front Door.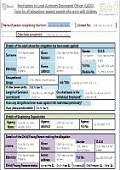 Click on the image to download the form
Managing Allegations Leaflet
Click on the picture below to access a leaflet that was developed by Brent LSCB for people that are facing an allegation.